Server based Network

Server-based computing will greatly simplify the application infrastructure of your business if you have 5 staff or more.

Every user can talk to the file server, but they cannot talk to one another.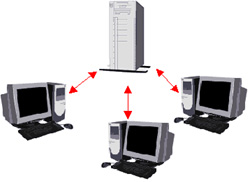 Putting a fast and well-equipped server to work increases your productivity, enables smart backup and archiving, and vastly improves the security of your data.

Business server-based networks

Advantages:

Performance - simultaneous access to data and applications

Security - All major server-based systems provide sophisticated security

Administration - services are centralized making them easier to manage

Scalability - additional servers are often added to increase capacity


Disadvantages:

Cost - server-based systems are usually more expensive both in terms of the hardware and the network operating system required. In addition, client licenses must be purchased for each machine using resources

Complexity - experienced system administrators are required to cope with the complexities of managing these systems

Some common server types include file servers, mail servers, print servers, fax servers, and application servers.
ATTENTION BUSINESSES CLICK HERE FOR OUR BEST RECOMMENDATION……